Lists are one of the best Twitter features, yet one of the most underutilized. Without Twitter lists, my Twitter feed is a disorganized mess of information covering all of my interests. I build lists ranging from marketing to recruitment, technology, world news and sports (ok, sports don't interest me, but the feed does help me hold a decent conversation with my husband!). I highly recommend using Twitter lists  to improve content marketing.
Twitter lists allow me to create separate spaces for each of my interests, so I can find the information I want, when I want to find it.
Today, I'm going to show you how Twitter lists will improve content marketing strategy. But, let's start with the basics.
What are Twitter lists?
A Twitter list is a way to group Twitter users together so that you have a feed of tweets from just that group.
Example: Let's say you're a content marketer in the travel industry who has a particular interest in fashion. You can create separate Twitter lists for content marketing, travel, and fashion, which would allow you to see the specific type of content you want to see, when you want to see it.
Alternatively, you can subscribe to someone else's list if you like the grouping they've put together.
How to create Twitter lists
Click the profile icon in the top navigation and click Lists.

Then, click the button that says Create new list.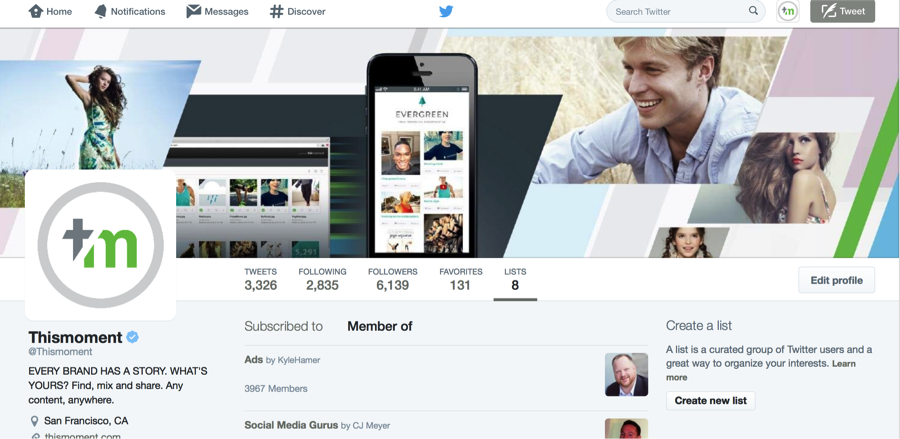 Name your list, give it a description if you'd like (this part is optional), and choose whether you'd like your list to be public or private. If you want people to know they're on the list, and allow others to subscribe to it, make it public. Otherwise, make it private.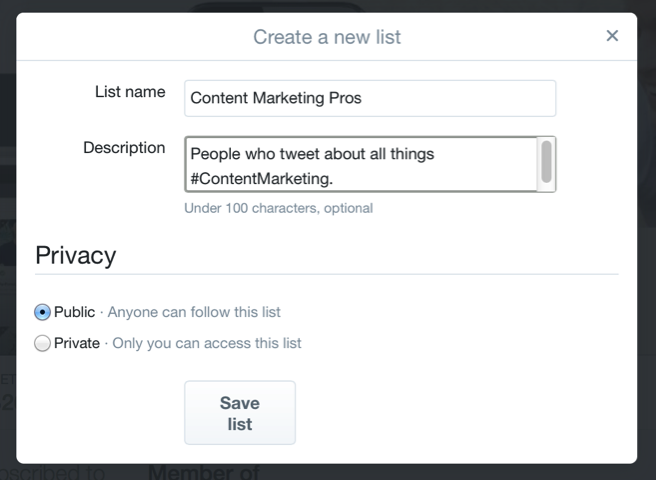 Once you've created your Twitter list, you can add people at any time from their profile. Just click on the "gear" icon, click "add or remove from lists," to add that person to specific lists.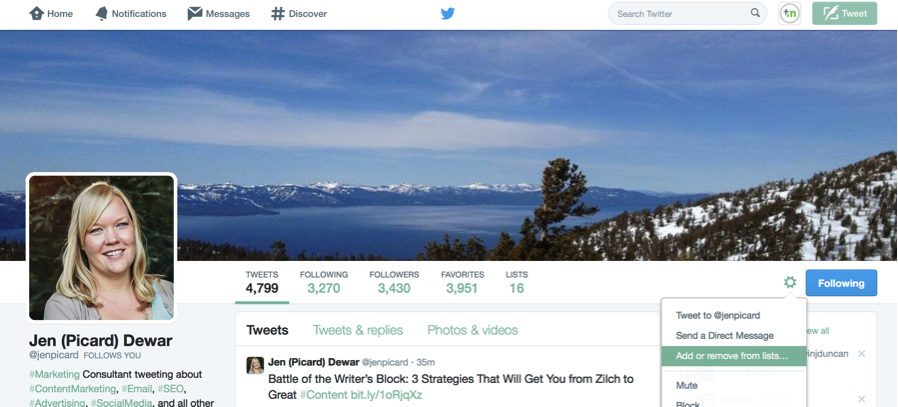 And that's it!
3 ways Twitter lists improve content marketing
1. Brainstorming content. I have industry-specific Twitter lists with bloggers, journalists, influencers, and enthusiasts, to help me keep a pulse on what people are talking about. These lists are often the inspiration for many of my content marketing projects, from blog posts to webinars, infographics, and eBooks, I can see what topics are resonating with my target audience and what gaps I can fill with my unique perspective.
I can also keep an eye out for questions people are asking on Twitter, and answer them through an original piece of content. Sometimes, 140 characters just won't cut it if I want to provide a great response. Plus, if someone is asking the question on Twitter, chances are someone else could benefit from the answer, which will be more discoverable on my blog.
2. Content curation. Along the same lines of brainstorming content, I often come across content I can curate. For instance, I may find an infographic or video to embed in my content, or an interesting stat that I can hyperlink from a blog post.
I can also gather my favorite content into a weekly "roundup" blog post, where I link to each post and add some content about why I found it interesting.
An added benefit of curating content within your own channels is that when you reach out to inform the original creator that they've been featured, they will often share your content on their network, which extends your content's reach, helping you build a bigger audience.
3. Influencer marketing. In addition to simply listening to social chatter, I also use my Twitter lists to engage with industry bloggers and influencers. I'll retweet their content, reply to content they share, and answer questions they ask. Once they start to engage, I add them to a second Twitter list for industry bloggers and influencers who engage.
Since I've already provided some value to these people, and they have an idea of who I am, I reach out from time to time to see if they'll help me promote my content. I usually prefer the softer approach where I'll reply to their tweet with my insights, linking to a post I've written that expands on my point-of-view. Often, the influencer will retweet my response and may even link to my post in one of their future posts, helping me increase my content's reach.
As you can see, I use Twitter lists quite a bit in my content marketing strategy – and love how they help me brainstorm, curate and distribute content. It's such a great way to filter all the noise from my main Twitter feed and focus only on the tweets I want to see, when I want to see them.
Are you using Twitter lists? If so, how do you use them?